More moderator power
17:35 February 25, 2021 by primal_r
Chrimle joins the moderator team and as assisting dev!

That brings our moderator count to 3, with Chrimle, Sellyme and Krazitrain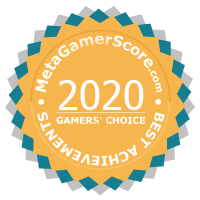 Best Achievements of 2020 nominations open
00:01 January 15, 2021 by primal_r
Don't forget to nominate your favorite game for the 2020 best achievements!
https://metagamerscore.com/best_of_voting

More backend upgrades...
22:12 November 30, 2020 by primal_r
In an attempt to solve the site instability, I have upgrades to even later versions of the web framework.

If you find issues, post 'em here:

To read more or comment:
https://metagamerscore.com/forum_topics/8508
Random game finder
00:00 November 05, 2020 by primal_r
A lot of people have a lot of games in their catalog and can't choose what to play.

So I made this little feature https://metagamerscore.com/random_games to help you randomly pick a game to play.

(you need to be logged in to use it)

The SEARCH for speed
21:33 October 14, 2020 by primal_r
Haven't managed to fix all the upgrade bugs yet, but I did manage to improve the speed of searching on the site by about 100x.

So feel free to try out the blazing fast search at the top-right of the page!

Backend update completed
14:48 October 04, 2020 by primal_r
Update: The transfer is now complete and metagamerscore is running on newer version of the backend libs.

Due to time between database backup/restore, there is a 11 hour gap, so any manual changes since then will have to be re-added.


Let me know in the forum if you find stuff that are not working as expected (probably a bunch) http://metagamerscore.com/forum_topics/8397

Transferring to new backend
16:00 October 03, 2020 by primal_r
I have been busy upgrading the back-end and the actual transfer is now about to happen.

While I will try to keep the site up during the transfer, if you make changes to your account or add a new account during this time, it may not transfer properly.

Thanks for your patience!